Depeche Mode Confirm Support For Upcoming North American Dates
posted: February 7, 2023

Depeche Mode has confirmed support for first leg of the eagerly anticipated Memento Mori World Tour. The tour's first leg of dates will be opened by Kelly Lee Owens, with the exception of New York's Madison Square Garden, which will feature support from Stella Rose & The Dead Language.
Wales-born London-bred musician and producer Kelly Lee Owens' unique melding of electronic music's coolness and warmth has built her an eclectic following of fans, critics, and fellow musicians including St. Vincent, Bjork, John Cale, and of course Depeche Mode. With vocals as confident and captivating as her beats, Owens has built a formidable solo discography that includes the albums Kelly Lee Owens, Inner Song, and her latest record LP.8, released in spring 2022 to unanimous critical praise, including Clash magazine's lauding its "giant leap in her evolution as an artist, continuing to build on an ever-growing discography of limitless promise"
Darkly poetic and industrial leaning, Stella Rose and her band The Dead Language have graced venues all over their native New York City and Brooklyn. With a confidence that belies the band's relative newness, The Dead Language has quickly built a distinctive sonic and visual identity on the foundation of Stella Rose's lyricism and stage presence. Myles Mullen completes The Dead Language's assault on the senses, painting the stage with imagery that meshes with and reacts to the music, creating a visceral story for the audience. The result is utterly unique and new—while paying homage to the downtown NYC golden age(s) that gave us the Velvet Underground, Patti Smith, Blondie, and Warhol's Factory. Stella Rose's first two singles, "Muddled Man" and "Angel" were released in Fall 2022.
The current listing of North American dates, cities and venues is also below. Additional North American shows will be announced in the very near future.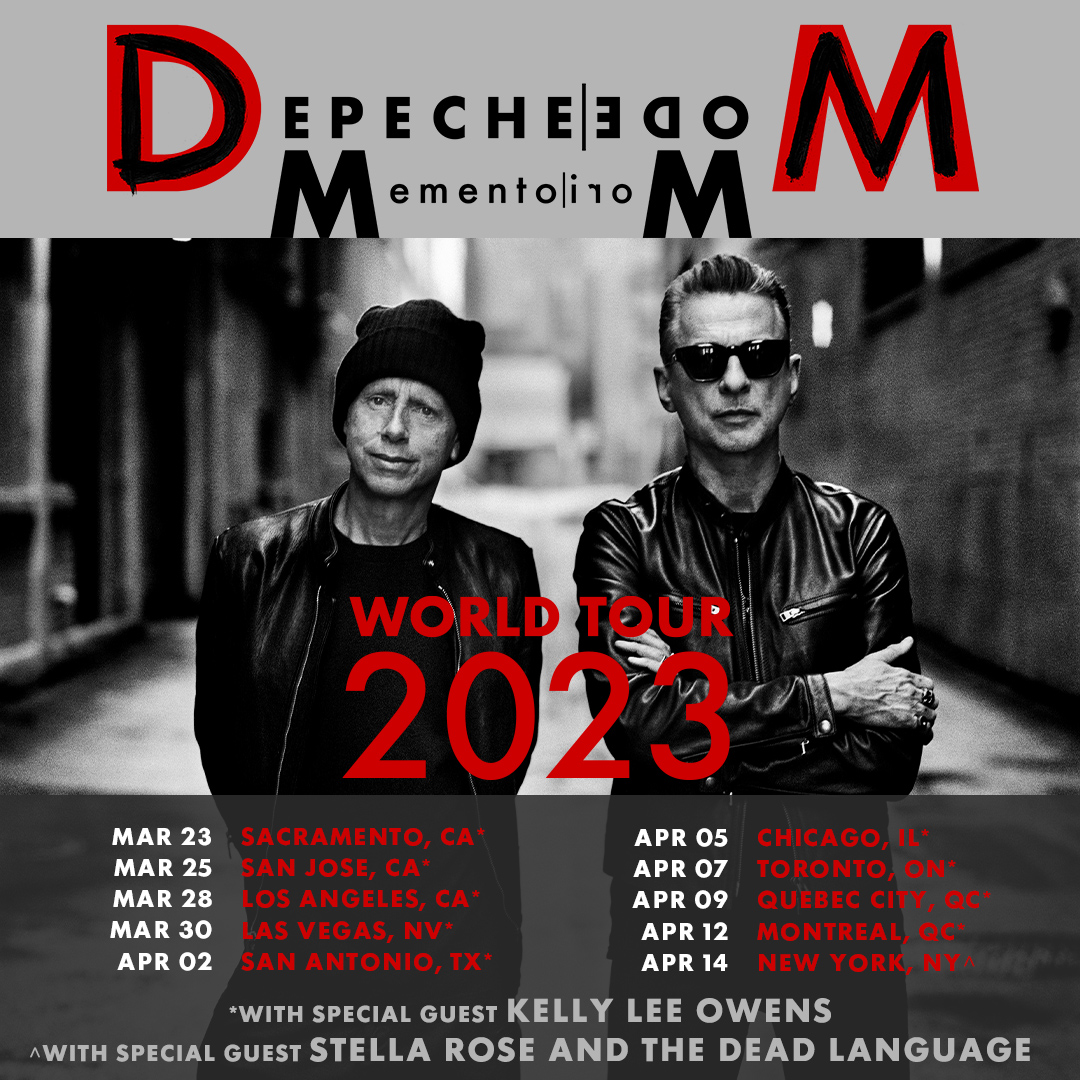 ---
Depeche Mode Announce First Live Shows in Five Years - 'Memento Mori' World Tour to Kick Off March 23, 2023 In Sacramento, CA
posted: October 4, 2022 (updated October 10, 2022)

BERLIN, GERMANY (October 4, 2022) - Rock & Roll Hall of Fame Class of 2020 inductees Depeche Mode announced today at a special event in Berlin that they will be releasing a new album and embarking on a world tour in 2023. The Memento Mori Tour will support the band's forthcoming 15th studio album, Memento Mori, due out in Spring 2023.
In a break from tradition, Dave Gahan and Martin Gore revealed today that the Live Nation-presented tour will begin with a special, limited series of North American arena dates starting March 23rd, before the band heads to Europe for their summer stadium tour. These limited North American dates will feature stops at New York's Madison Square Garden, Chicago's United Center, Los Angeles' Kia Forum and Toronto's Scotiabank Arena, among others. The band will then begin their European stadium tour on May 16th, with noted stops including the Stade de France in Paris, Berlin's Olympic Stadium, Milan's San Siro Stadium, and London's Twickenham Stadium.
In speaking about Memento Mori, Martin Gore commented, "We started work on this project early in the pandemic, and its themes were directly inspired by that time. After Fletch's passing, we decided to continue as we're sure this is what he would have wanted, and that has really given the project an extra level of meaning." Dave Gahan added, "Fletch would have loved this album. We're really looking forward to sharing it with you soon, and we can't wait to present it to you live at the shows next year."
The Memento Mori Tour will be Depeche Mode's 19th tour and their first in over five years. The band's most recent outing, the 2017-2018 Global Spirit Tour was its longest to date and was one of the year's highest grossing tours, with the band playing to more than 3 million fans over the course of 130 shows across Europe and North America.
Memento Mori will be Depeche Mode's 15th studio album and the follow-up to 2017's critically acclaimed Spirit, which reached #1 in 11 territories, charting in the Top 5 in more than 20 others. Memento Mori will be released worldwide in Spring 2023 via Columbia Records.
Having sold more than 100 million records and played to more than 35 million fans worldwide, Depeche Mode remains an ever-evolving and singularly influential musical force. An indelible inspiration to fans, critics and artists alike, Depeche Mode continues to forge ahead, with the Memento Mori album and tour representing the opening of the newest chapter of a peerless and ongoing legacy.
Update (October 10th, 2022): The dates for the Lyon and Bordeaux shows are being swapped due to venue logistical issues.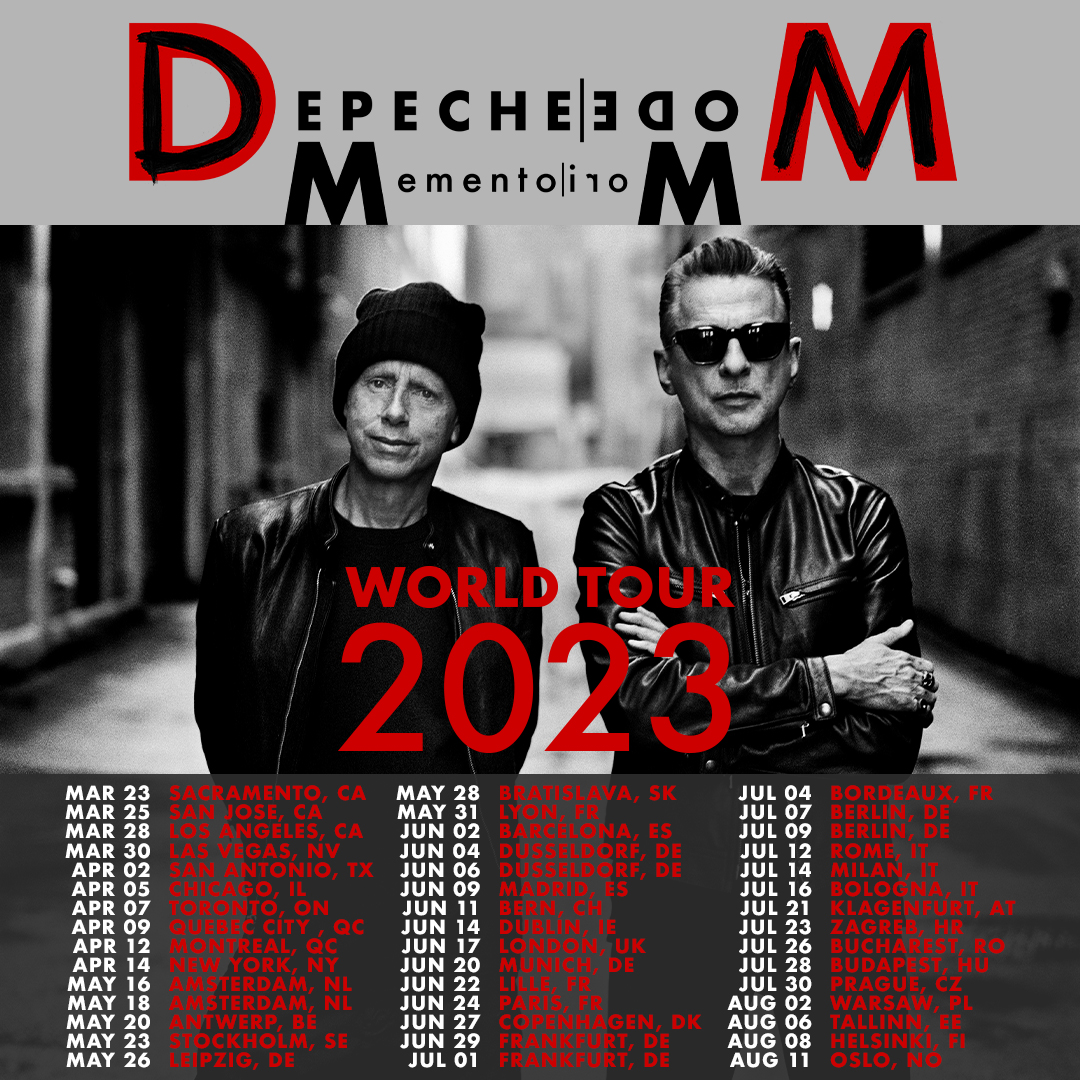 ---
Join us for a special announcement. Tuesday at 1pm CET.
posted: October 3, 2022 (updated October 7, 2022)

Here is an archived YouTube version of our Facebook Live Special Event